John and Tammy Carter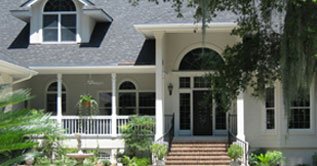 To Whom It May Concern:
Having reroofed our 1992 constructed house in December, 2008, we wanted to upgrade our guttering system to include new gutters & gutter guards. Having spent 8 years crawling up and down ladders hand cleaning out pine needle and leaf debris from the gutters, it was time to upgrade to a more efficient and safer system. AGC Gutter Company, owners Steve & Liz Arnot, and the entire crew were extremely helpful and patient with us in designing a complete system including downspouts and splash blocks to protect our 2 story house. Before the system was installed, we had large amounts of water getting under the house built on concrete piers near the marsh. Water would splash over the old clogged gutters and run under the house. The gutters and downspouts now protect us from such water even in heavy rains, and gutter guards keep the pine needles off the roof, except in the eaves. ACG Gutter Company comes 4 times a year and blows the debris which collects in the eaves from the tall pine trees surrounding our house off the roof. We would highly recommend AGC Guttering Company to anyone considering new guttering, downspouts, and gutter guards. The crew was very professional and we've had no problems at all with the guttering system, since it was installed in January, 2009.